Marine-Awning-Industrial
SolarShade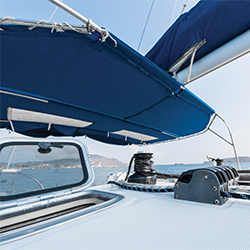 The next generation of marine and awning fabrics is here. SolarShade, SolarShade FR, and SolarShade Plus FR, all offer excellent breathability, high water repellency, mildew resistance, and outstanding strength and durability. Crafted from advanced staple fiber and spun 100% solution-dyed polyester yarns, our SolarShade products provide exceptional value at their price point, and after being tried and tested in the field, they have proven to be the top solution for marine covers and tops, shading, and protective covers.
Atlantis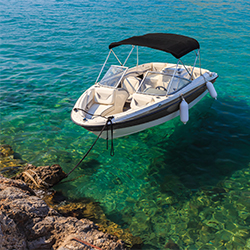 Atlantis is a lightweight 100 % solution-dyed polyester fabric with a durable, waterproof PU backing. This is a high-quality entry-level outdoor covers fabric, with excellent UV and mildew resistance, for multiple end-uses. With excellent colorfastness, this product will look brand new for years.

Atlantis is also one of the most environmentally friendly outdoor fabrics on the market. Not only will Atlantis meet the most stringent functional requirements, but they will also play a substantial role in protecting the environment for future generations.
Ultra Clear FR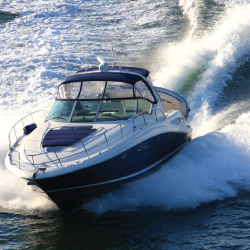 The Ultra Clear collection now offers two new products with an FR rating, passing NFPA 701; available in 20 gge and 30 gge. These products are formulated for maximum UV stability, fire retardancy, and cold crack. They also offer great optical clarity and durability.
ALL MARINE AWNING AND INDUSTRIAL COLLECTIONS
Alnet
The specialized knit construction makes Extrablock dimensionally stable, providing equalized stretch and strength across the width and length of the material. Its low profile design makes the fabric smoother and easier to fabricate than other traditional shade fabric, and it can make a great low cost replacement for other porous fabrics.
Capitano
Nautolex Capitano marine upholstery vinyl is a good option for all of your marine applications. This is an affordable upholstery vinyl which you can use outside or inside for seats, panels and trim. It is offered in a variety of colors to match any boat.
Ennis 1974
Ennis 1974 is an excellent PVC that features a fine PVDF coating to allow for improved ease of welding. There are 17 top-selling colors to choose from, a limited 10-year warranty, and a consistent semi-gloss finish on every SKU. At 19 oz. and 74" wide this excellent PVC product is ideal for all your awning, canopy, and various light structure project needs.
View The Collection
Firesist
Choose FIRESIST for an up-to-code fire-resistant awning and shade fabric that looks as good as it performs. Improved strength, colorfastness, and weather-resistance make fabrication with FIRESIST easier than ever.
Now available in 4 new colors (16 total)!
Infinity
The Infinity collection is comprised of Luxury Woven Vinyl™ (LWV), which combines both style and practicality. All Infinity products are Heavy Traffic rated, lightweight, and incredibly easy to clean. Infinity marine flooring also features a cushioned vinyl backing that provides long-lasting relief and support.
WeatherMax 3D
WeatherMax 3D is a new addition to WeatherMax's line of outdoor fabric. WeatherMax 3D is fade resistant and features enhanced UV protection. WeatherMax 3D stretches up to 20% when in use; however returns to original size when not in use. An extremly plyable fabric, WeatherMax 3D is available in 3 colors: Black, Light Charcoal, and Mist.
Seaway
Seaway is an easy to clean PVC flooring, which fantastic features. It has great tensile strength, cold crack -40 C, and is UV resistant. Seaway flooring is traditionally used for fishing boats and runabouts. By popular demand, we have expanded Seaway's color range to include 7 fresh new colors. Seaway is now available in 11 stylish, yet functional colors.
Sensations
Introducing the industry's first textured woven PVC textile with endless designs and leading durability, comfort and convenience. Our Natural Textures collection features different textures that simulate patterns of the desert, tree bark, sand, wood grains, stone and organic elements that bring peace and calm to any environment.