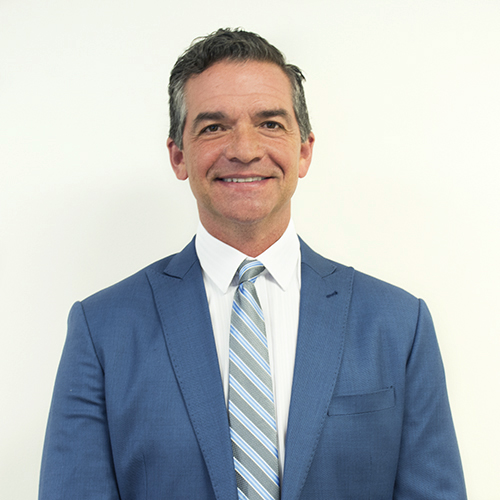 Jim Ennis
President and CEO of Ennis Fabrics
---
Jim has a 25+ year career in the fabric industry. Under his leadership, Ennis Fabrics has successfully expanded into the USA and China. These achievements have been a result of his reputation as a strategic planner. Jim attended Boston University School of Business Management on a hockey scholarship. His athletic talents eventually landed him a position playing professional hockey for the Edmonton Oilers and Hartford Whalers.
Jim is married to Kim Ennis and have three children—Josh, Madison, and Abbey.

Kirk Reiniger
Vice President, Sales and Marketing
---
Our hardworking Vice President Kirk oversees all aspects of Sales, Marketing, Sales Support, and Customer Service. Kirk is our change manager. He has facilitated the restructuring of Sales and Customer Service to better align with our target customers making sure we provide subject matter expertise to all our customers to improve our overall customer experience.
Kirk has been a valued member of the Ennis Fabrics team since 2007 and continues to strengthen the Ennis Fabrics brand and drive a customer-centric approach with all we do.

Victor Jensch
Vice President, Market Development
---
Victor has a very strong background in textiles, having owned and operated textile manufacturing companies in South Africa. Coming from South Africa to Canada, Victor brings with him, a wealth of knowledge and experience in areas of manufacturing, quality management, supply chain, and logistics. As our Vice President of Market Development, Victor looks after inventory management, vendor management, and new market development. Victor has been an invaluable member of our team since 2013 and has instigated the complete change of our procurement, quality assurance and vendor management processes.

Jordain Chung
Chief Financial Officer
---
Jordain is a Chartered Professional Accountant (CPA, CGA) with a strong Ennis history, having worked here since 2007. With his twelve years of Ennis knowledge, excellent finance aptitude and his passion for innovation and creating efficiencies, he was a natural choice for the CFO position. Jordain is responsible for managing the company's budget and finances and mitigating risks. He oversees the finance and accounting functions of our business and constructs valuable data storytelling. Jordain also designs tools to improve business efficiencies and performance. We are very excited to have Jordain's enthusiasm and vision a part of the executive team and Ennis family.